Earth to Tables Legacies Project (2015 – present)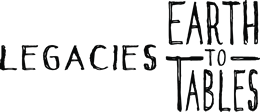 The most recent collaborative research project, Earth to Tables Legacies, builds on my two earlier transnational projects – the Tomasita Project (1994-2002) and the VIVA! Project (2003-2011). It moves beyond the critical analysis of the industrial food system (Tomasita) to focus on food sovereignty and alternatives to that system. And it integrates community-engaged arts-based methods (VIVA) in the gathering of stories of the collaborators who are working to transform the food system at various levels of action – from Earth to Tables.
Since 2015, we have brought together a small group of food activists across big differences – youth and elders, rural and urban, Indigenous and settler, Canadian and Mexican. They have shared their legacies through their stories and their intercultural and intergenerational dialogue in the form of 10 videos and 11 photo essays on a multimedia website: earthtotables.org. As with the earlier projects, this one grew organically and was named in 2016 when it became clear that the two key women collaborators represented the spectrum: Dianne a settler farmer who digs deeply and thinks deeply about the soil, and Chandra an Indigenous food educator and artist who uses the table as both a gathering place and a metaphor for her work to recover healthy traditional food practices as a way to rebuild Haudenosaunee communities.
The Legacies Project is completing its first phase in 2022, with the publication of a book Earth to Tables Legacies: Multimedia Conversations Across Generations and Cultures, that accompanies the website: earthtotables.org. This unique multimedia package offers teachers and activists Facilitator Guides, commentaries by 18 food scholars and activists, and links to other online resources.
Since 2020, Legacies is in transition toward a second phase, led by younger BIPOC activists, who are envisioning a collective governance, a broadening of the collaboration, and artistic productions in various forms.
Resources 
⇓ Earth to Tables Legacies Website
⇓ Earth to Tables Legacies Book
⇓ Legacies Research in Mexico – May 2023: Learning from Indigenous Food Activists in Mexico
⇓ Legacies Research in Mexico – November 2015. 
⇓ Angel and Valiana's Solar Maya
⇓ Glimpses and Tastes of the Yucatán
⇓ Visiting Mexican partners (February 2020)
Publications
⇓ Gelis, A., & Barndt, D. (2022). Looking back, looking forward: A field report on the Earth to Tables Legacies multimedia educational package. Canadian Food Studies La Revue Canadienne Des études Sur l'alimentation, 8(4).