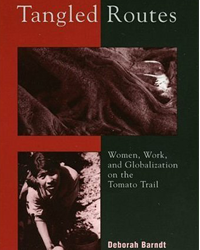 Tangled Routes: Women, Work, and Globalization on the Tomato Trail
Where does our food come from? Whose hands have planted, cultivated, picked, packed, processed, transported, scanned, sold, sliced, and cooked it? What production practices have transformed it from seed to fruit, from fresh to processed form? Who decides what is grown and how? What are the effects of those decisions on our health and the health of the planet?
Tangled Routes tackles these fascinating questions and demystifies globalization by tracing the long journey of a corporate tomato from a Mexican field to a Canadian fast-food restaurant. Through an interdisciplinary lens, Deborah Barndt examines the dynamic relationships between production and consumption, work and technology, biodiversity and cultural diversity, and health and environment. A globalization-from-above perspective is reflected in the corporate agendas of a Mexican agribusiness, the U.S.-based McDonald's chain, and Canadian-based Loblaws supermarkets. The women workers on the front line of these businesses offer a humanized globalization-from-below perspective, while yet another "globalization" is revealed through examples of resistance and local alternatives.
This revised and updated edition highlights developments since the turn of the millennium, in particular the deepening economic integration of the NAFTA countries as well as the growing questioning of NAFTA's consequences and the crafting of alternatives built on foundations of sustainability and justice.
Introduction: Roots and Routes
Chapter 1: Across Space and through Time: Tomatl Meets the Corporate Tomato
Chapter 2: Frames and Filters: Theoretical and Methodological Approaches
Chapter 3: Arch Deluxe with a Smile: Women Never Stop at McDonald's
Chapter 4: You Can Count on Us: Scanning Cashiers at Loblaws Supermarkets
Chapter 5: On the Move for Food: Truckers and Transnational Migrants
Chapter 6: Picking and Packing for the North: Agricultural Workers at Empaque Santa Rosa
Chapter 7: Crossing Sectors and Borders: Weaving a Holistic Analysis
Chapter 8: Signs of Hope: Taking Action for Justice and Sustainability.